About Ultra Safari
Hi... I am Steve and I am lucky enough to be the founder of Ultra Safari.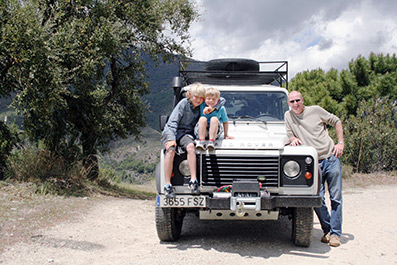 We have been established in Spain for four years and consider ourselves privileged to live and work in such a beautiful part of the world.
We realize how lucky we are that our "job" is to meet new people and share with them these wonderful mountains and our mild addiction to all things ATV.
We take your enjoyment seriously. All our vehicles are meticulously maintained. We carry full insurance and are licensed by the Junta de Andalucía. However, we think it is just as important to take time. Time to make sure you have the right equipment, time to make sure you are comfortable with your vehicle, time to create a route to suit you and time to enjoy the experience. It would be a very sad day if we did not have time to enjoy a drink or two with you at the end of the adventure!
Our objective "Give people a great experience and make them happy" Simple!
We welcome clients of all age groups and all ability levels so please come and join us. You might not know what you are missing.
Regards
Steve
Should you have any questions please do not hesitate to give us a call. +34 680 799 231